URA's Virtual Office Hours
URA's Office Hours will continue to be held this semester virtually. We are currently in the process of transitioning to virtual office hours, and we will keep you updated in this transition. You can expect to hear back from us regarding virtual ways to meet with ambassadors starting March 30th.
---
Continuing Fall 2020 ...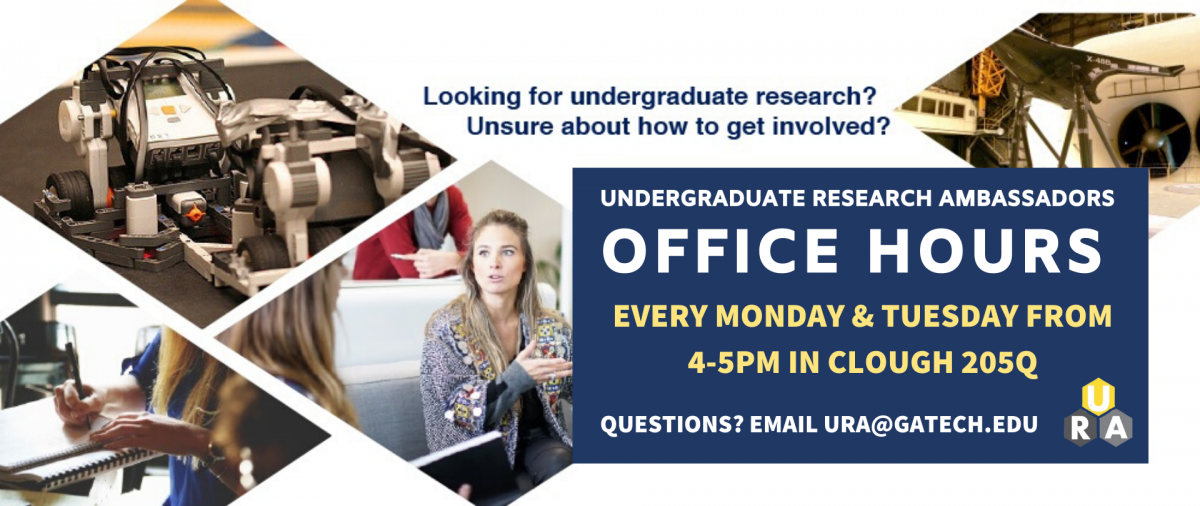 The Undergraduate Research Ambassadors host office hours every week from 4pm-5pm on Mondays and Tuesdays to help you with all your research related questions! Sometimes getting started is the hardest part - Research Ambassadors are here to help guide you and figure out your own interests, introduce you to an exclusive list of research positions at the Institute, and email professors. URA maintains a database of labs interested in having undergrads for this very purpose of helping others start out on the research process. For those already involved in research, we can help with resume edits, applications to PURA and other awards, and practicing for conferences. Stop by Office Hours to speak to an Ambassador this semester and let us help enhance your educational experience today!
Please use this Resource tab to answer your general questions about undergraduate research. If you have any specific questions, feel free to reach out to a current Undergraduate Research Ambassador! You can find contact information for every Research Ambassador under the "Current Ambassadors" tab.